They were utterly alone. Abandoned. Hungry. Clinging to one another in a mud hut in rural Kenya. Christine, the oldest, had advanced conjunctivitis in both eyes. Each day, her eyesight became more filmy and dim. Her younger brother, Enoch, had a burgeoning mass on his sternum and a growing, infectious sore on his back. Their baby brother, Elvis, had an advanced case of malaria. The hut had no running water, no food, not even a blanket.
The three abandoned children were fearfully dying a slow, painful death. Their mud hut was literally becoming an earthen tomb.
***
Devry Coghlan bounced along in a white van on a red dirt road pocked with potholes and deep ruts. She smiled as she thought about driving in Kenya:
No speed limit needed.
No speed traps to avoid.
No radar guns pointed her way.
Nobody in Kenya even has a radar gun.
The difference between her previous life and her present one suddenly struck her as really funny. She shared a good laugh with the others in the van. Soon they reached their destination: a row of mud huts on the edge of a tiny neighboring village.
Devry was making a home visit to relatives of one of the children from the orphanage where she and her husband, Curtis, work.
It was there that she heard about the three abandoned children. She decided to investigate.
"Some scenes never leave your mind; the sight of their squalid home is one of those for me." Devry teared up as she described how desperate they were. She had no real authorization to take them with her—except that of love and mercy. She put the kids in the van and headed back to the orphanage.
I sat on the edge of a brown leather chair in a local coffee shop, listening intently to their story. Soft Christmas music was playing; red and green decorations were hung in the windows. As I sipped my steaming cup of coffee, Curtis and Devry's stories transported me thousands of miles away to a world I know very little about.
It was my blessing to meet with the Coghlans while they were on Christmas furlough. When I handed Devry a small Christmas gift, she looked at the wrapping paper with appreciation. "Everything here is so pretty, down to the ribbons and tissue paper. Such things are rare in Africa. Beauty is one thing I miss about America. I think God loves beauty—we can see that in creation—and while Kenya is naturally beautiful, it is raw and undeveloped. I think beauty restores our creativity; it's good for the soul."
Suddenly, the immense sacrifice the Coghlans have made came into sharp focus. It made me feel like my own "sacrifices" were rather small.
The Coghlans work with Kenya Relief, a Christian relief organization, based out of Cullman, Alabama. Kenya Relief operates an orphanage for about 100 children, a surgical clinic and a school. Curtis and Devry run the day-to-day operations and host surgical, construction and mission teams there.
In 2014, Curtis and Devry left their comfortable home in Hampton Cove, Alabama, sold most of their possessions, left jobs and a church they loved, to move to Migori, Kenya. Devry had never even been to Africa before. But when she and Curtis felt God's call, they just decided to trust Him and go.
Amazing.
Devry said, "It felt like we were surrendering everything—our cars, our house, our friends—e v e r y t h i n g. What's so amazing and wonderful is how full we feel. We have such abundance that we could've missed. I guess emptying our hands allowed God to fill them with much more, but we did have to empty them first."
"Living in Kenya is like living in an entirely different world," Curtis explained. "Mud houses, the smell of cooking over open fires and funeral drums beating through the night are all part of our new normal." "Our neighbor's rooster has even replaced our alarm clock," Devry added with a laugh.
The Coghlans surrendered to God's call and God responded by giving them abundance of heart. "To see the lame to walk and the blind to see is one of the greatest gifts you can receive," said Curtis. "Doctors come to our clinic (from the U.S.) and provide excellent care to those who desperately need it. I can't tell you what it means to me. Any sacrifice we've had to make is well worth it."
I began to wonder how willing I am to surrender to God's call:
• Am I willing to sacrifice time to seek Him daily or am I just too busy?
• Am I willing to share my money with the poor or do I spend it all on me?
• And most importantly, am I willing to surrender my will to His?
That morning, I learned how valuable surrendering to God's will can be:
When the three abandoned children arrived at the Kenya Relief compound, an eye surgeon "just happened" to be operating at the clinic that day. He saved Christine's sight.
A week later, a visiting pediatric surgeon removed Enoch's mass and cleansed his infectious wound. Elvis received treatment for malaria—a $5.00 life-saving treatment that most cannot afford.
"The children are thriving now," Devry said. "The physical care we give them is wonderful, but the best thing you or I can do for anyone—in Kenya or anywhere—is share a saving knowledge of Jesus Christ with them. Christine, Enoch and Elvis are receiving the greatest gift of all."
I wrote this story before I knew the three children's names, so as a temporary measure to help me write, I used my own three children's names.
This cut me to the heart.
I typed on, tearfully reminded of the immeasurable worth of surrendering to God's plan for my life. There are lives and souls at stake. There are people whom God wants to reach through you and me. He wants to use our lives to give hope to the hopeless. He wants to save others through us. God only asks us to empty our hands so that He can fill them with abundance.
The Coghlan's story encourages me to surrender to God's Spirit, wherever it leads. It's the most meaningful way to live. My prayer is that it will encourage you, too. We have a New Year, let's live it for God's glorious purpose.
Devry and her team feeding the children about an hour after they were found. Christine can't see and is so emotional that eating is difficult.
Devry with Enoch just after his life-saving surgery.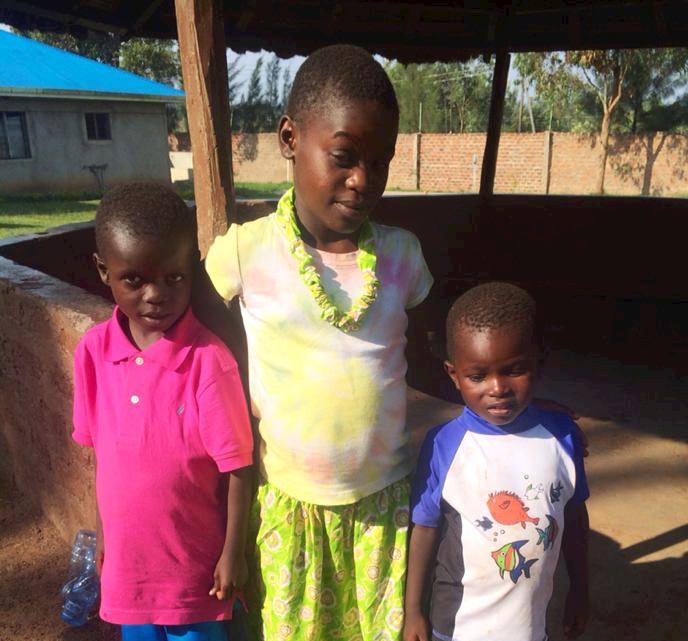 Christine, Enoch & Elvis now
The Coghlans receive no salary, so they have ongoing financial needs. Donations can be designated specifically for the Coghlans online. Go to https://kenyarelief.org/donate/ (click designate to Coghlans in Kenya). If you don't feel led to give financially, please give to them spiritually by praying for their strength and encouragement as they face long days and depths of poverty to help people we may never know, find hope in Jesus Christ.