Ferlando ran across the red-dirt floor of the orphanage, reaching upward with his thin arms. He sobbed as he grabbed Rachel's legs and refused to let go. His dark, tear-filled eyes almost seemed to plead, Please don't leave me here!
And in that moment, something remarkable happened.
"The door of my heart sprang open to this little orphan boy in a way I'll never understand," said Rachel White. "I'm a careful planner, a neat freak and a germ-a-phobe, yet I clung to this little child on the floor of that filthy Haitian orphanage with complete abandon. Suddenly, I could not bear the thought of Ferlando being an orphan anymore."
Recently I visited with my friends, Aaron and Rachel White, to learn more about their beautiful adoption story.
"After we came home from our mission trip to Haiti," said Rachel, "I couldn't get Ferlando off my mind. Neither could my children, Katelyn and Jake. That moment with Ferlando changed us, forever. We spent the next week in earnest prayer, asking God to show us what to do. We decided to adopt Ferlando–to make him our son."
He was blind in his right eye, due to a bulging, malignant tumor.
He was malnourished and helpless.
He had nothing to offer—but his heart.
"It seemed irrational to open our family, lives and hearts to this child," Rachel continued, "but we felt God calling us—the most unlikely people, ever—to do this. It was scary and unpredictable, but somehow, we knew this was the right path for our family."
"Ferlando wasn't an easy kid," laughed Rachel.
"I like my life orderly—he brought chaos. I like quiet—he was loud. I'm uncomfortable with hospitals and illness, but Ferlando's cancer didn't turn me away. I just . . . loved him."
"When we brought him home to Nashville, he sort of turned against us at first, pulling away, sometimes even hitting and biting us. Later, we learned that he witnessed the death of his mother and possibly his siblings, so his struggle to adjust to a new family was understandable."
Last summer, Ferlando began chemotherapy at Vanderbilt Children's Hospital.
"As we cared for him night and day, we finally bonded," said Aaron."He often woke up during the night, just to make sure I was still there. Then he would pat me gently on the arm and fall back to sleep."
"Caring for such a sick child is one of the most painful things I've ever done," said Rachel.
"And when we were exhausted and it seemed like we couldn't do it anymore, God sent an army of friends to help. Some sat with Ferlando in the hospital. Others gave our kids rides to school and to ballgames. Many came to pray with us."
"Our young friends, Caroline and Josh, actually moved into our basement to help us care for Ferlando, once he came home," Rachel said. "Caroline embraced Ferlando's care, keeping track of his medication and even flushing his port lines. Our family worked together like never before. Our church came to our rescue, providing meals, prayer and emotional support."
"In early September, we learned that Ferlando was terminal."
"God taught us to be grateful just for the day, instead of worrying about what was next. This enabled us to enjoy our son while we could."
"We bought him a little motorized car he called his 'machine,'" Aaron added. "Ferlando drove it proudly around the yard with 'Skip' (our dog) riding shotgun. We went to the beach. Neighborhood children came over to play. It's amazing how much fun we had, even in the midst of our pain."
Ferlando died peacefully on October 28, 2017. He died, not as an orphan, but as a beloved son.
As I listened to the Whites, I began to blink back stinging tears . . . because I realized that Ferlando's story is actually my own story.
And I hope it's yours, too.
For once we were spiritual orphans, helpless and sick, without any hope for the future. But God, in His great love, opened His heart and made us His children.
As you celebrate Easter weekend, remember that Jesus died to enable your adoption. He rose to life, ensuring that one day you will rise too, and live as a member of His family, forever.
Our adoption is a gift from God. (John 1:12)
We belong to the family of God, permanently. (Eph. 2:19)
Our priceless inheritance can "never perish, spoil or fade." (1 Pet. 1:3)
"Sometimes, I wonder why God called us to adopt a dying child," Aaron reflected. "But then I remember the love and the many lives Ferlando touched and I know: God gave us a real-life picture of what He has done for us. It's an exhibit of grace that we can never forget—it is etched, not only on our minds, but forever on our hearts."
Let's rejoice as we remember how God loves us:
 . . . God decided long ago to adopt us. He adopted us as His children with all the rights children have. He did it because of what Jesus Christ has done. And it pleased God to do it.  Ephesians 1:5 NIRV
My friend and award-winning artist, Ronnie Freeman, wrote Orphan, a beautiful song about our spiritual adoption.
I first heard it one night while I was sitting in a bigtop tent at JH Ranch in California. Its words are precious to me—I hope they will be precious to you, as you celebrate your own glorious adoption this Easter:
You took my guilt and shame
Gave me a brand new name
You call me your beloved
I call you abba father
I'm not an orphan anymore, I'm yours
I stand before you now adored, I'm yours
Your cross has set me free
New life belongs to me
I'm not an orphan anymore.
*The Whites would like to express their appreciation to Elizabeth Hasselbeck, Bob Goff, Congressman Jim Cooper and Miriam Frederick of New Life Children's Home (the ministry that rescued Ferlando), for helping them bring Ferlando home. Thanks to Vanderbilt Children's Hospital, Dr. Debra Friedman, West End Community Church, and to many wonderful friends, especially Josh and Caroline Adams. Thanks also to the faculty and students of Christ Presbyterian Academy for your prayers and support.
May Patterson with Rachel and Aaron White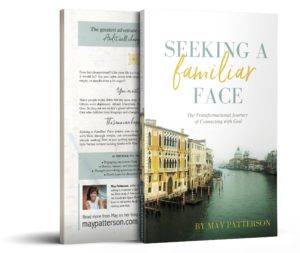 Encouraged by this post? Then you will be encouraged by similar stories in my book, Seeking a Familiar Face, too! Click here to purchase.